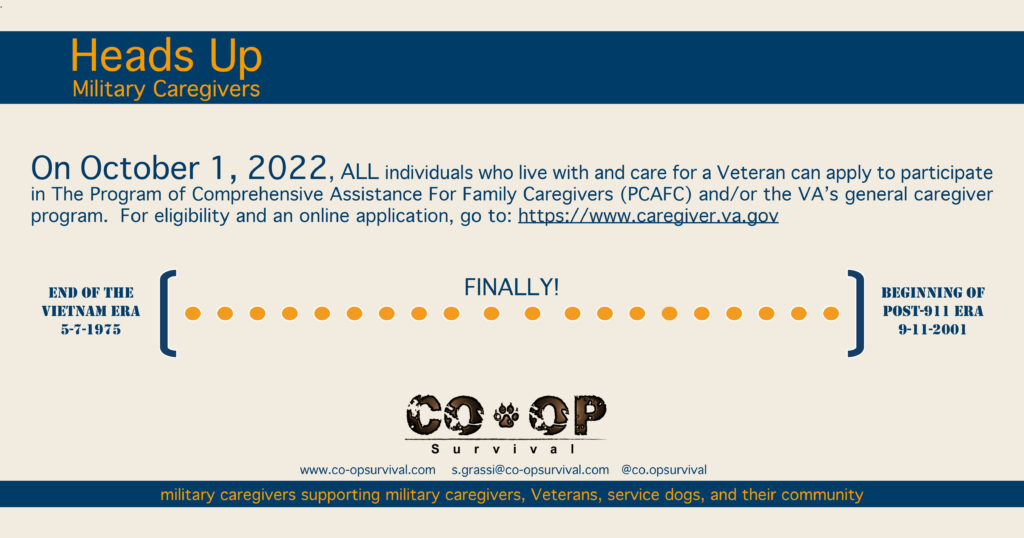 Messy but they try
One of the best and worst programs for military caregivers is the Program of Comprehensive Assistance for Family Caregivers (PCAFC).
PCAFC is a program that supports individuals who care for a wounded, ill, or injured servicemember, after that servicemember is discharged from the military. There is an application process to participate in PCAFC, and, once approved, caregivers receive a stipend, based on the level of care they provide.
Why are family caregiver important?
Think of Iron Man and the suit that keeps him safe. We want that suit for all our servicemembers, and we are close, but not close enough. With the progression of military technology, the majority of post-9/11 combat injuries do not end in death, but the incidence of long-term damage from wounds, illness, and injury has increased. Crunching numbers from the Congressional Research Services and the Department of Veteran Affairs data on America's Wars, Post 9/11 survival rate from wounds is about 98%, which is 29% higher than all previous wars.
These statistics show that many young men and women returned from Iraq and Afghanistan with injuries that would have killed their fathers and grandfathers. This is the group of Veterans that need some level of care.
Difficulty in transitioning
For servicemembers who were not medically discharged, the first stop in getting medical and mental health benefits is the Veterans Benefits Administration (VBA).
Per an article in Workplace Health & Safety, The Unique Health Needs of Post-9/11 U.S. Veterans, "The "signature" illness of post-9/11 veterans is polytrauma"; a combination of pain, post-traumatic stress disorder (PTSD), and persistent post-concussion syndrome (PPSC) – basically a combination of head trauma, mental trauma, and pain. Before getting help, injured servicemembers are required to navigate a maze of VBA forms, then try to explain the complexities of their injuries to a medical provider who may or may-not have any military experience. Many just walk away—unless they have a caring family who helps them through the maze, a caregiving family.
Has the program always existed?
Prior to 2011, military caregivers were called mom, dad, wife, husband, sister, brother, or any label that connected the servicemember to the person who took on the role of caregiver.
But in 2011, Senator Elizabeth Dole began the groundwork that would become an enormous movement to support America's military caregivers. In 2012, Senator Dole commissioned a RAND study, Hidden Heroes, America's Military Caregivers (2014), and the study found that there were over 5.5 million military caregivers in the United States. Five-and-a-half million caregivers had little support, financially or emotionally; they were caring for our wounded military without so much as a thank you.
Findings from the Rand study went to Capitol Hill, and not so quickly or easily, PCAFC was born.
Government programs rarely get it right the first time
As with many programs that are born on Capitol Hill, there were problems. The biggest problem was the exclusion of Veterans who served prior to 9/11. PCAFC was launched with the promise that wounded, ill, and injured Veterans who served prior to 9/11 would be included… later.
The Mission Act and PCAFC
In 2018, Congress passed the Mission Act, which expanded PCAFC to all caregivers, but the implementation of that expansion was placed in the hands of the Department of Veteran Affairs. As you might expect, they fumbled the expansion when they changed the eligibility criteria to a crazy-restrictive, you must be on deaths door, type of program. And they decided that they would only evaluate the needs of Veterans who served prior to May 7th, 1975 (the end of the Vietnam era).
A big gap between service eras
"Veterans who fall in the gap will be included, soon", so said the VA, but their new rules were so bad that in 2022 they had to pause, again. During the pause, Capitol Hill stepped in and say, "Whoa!!! What happened here? We never told you to change the rules." So… the new rules are, again, are under construction. (Discussion for another post).
Finally!
Even though the rules are still under construction, on October 1st, 2022, the Department of Veterans Affairs FINALLY made ALL Veterans eligible for PCAFC. It may be a messy program, but they are working on it, and we (the caregivers of all eras) are in the same boat.
The Infographic
The infographic (the shareable image at the top of the blog) is something you can share with anyone you think might benefit from the information. And now you have a little background on why this tiny fact is important.